20 December 2022 - Christmas Celebration: Frank Banfield Films and a Fish & Chip Supper
Our Annual Christmas Evening started on a sad note with moments of reflection on the Lives of Chris Foren our Branch Reporter for many years and Adrian Shooter who had supported the Branch during his time living in Bedford and also coming to talk to us about his eventful career on the railway.
We welcomed Frank Banfield, custodian of so many wonderful old railway films, who started the evening well, by showing Night Mail, a film dating back to 1936 which - for those sharp enough to spot them featured - Unrebuilt Royal Scots, Patriots, Crabs, Compounds, Jubilees and a Black 5 for good measure. This was followed by the jolly capers of Great Western Staff at Pontypool Station who were caught on camera as they went about their duties.
Our sustenance duly arrived from the Local Chip shop in the form of huge portions of whatever we ordered accompanied by our now famous, peas. Having consumed at our festively decorated tables the show resumed.
This time with Pickfords hauling a huge electric generator from manufacturer to it's new point of installation showing the dexterity of the staff in manoeuvring such a vast load around narrow lanes and sharp corners. More modern was a presentation depicting the Festiniog Railway in more recent times. On the Shed came next featuring 6170 British Legion coming off it's train onto the shed before being prepared for it's next duty. Another gem from just before nationalisation. Then for the cultural part of the evening, excerpts from Oh Mr Porter, Tom and Jerry and finally a humorous look at New Trains for Old, the last Journey.
The Chairman profusely thanked Frank Banfield for his careful selection of films which ensured that we all had a splendid evening. Finally he thanked the Committee for arranging the evening, specifically Bryan Cross and the other members, John Morgan, Chris Jones and Kevin Darnell who got stuck into the clearing up followed by washing up. Sheelagh Morgan was not forgotten for her important role as Kitchen Supervisor. (Bill Davies, Branch Chairman)
6 December - With Lance King in Ireland – part 2 - Leslie McAllister
The advertised speaker on 6/12, Leslie McAllister, was unable to attend in person due to illness. However, arrangements were made for him to give his talk by Zoom. Lance was a former LCGB Club Chairman and I accompanied him on several of his trips, in particular the earlier ones, when we had both taken up colour photography. The show brought back many memories, including the Fintona horse tram (on which Lance used to insist that I was using my stopwatch to check the speed of the horse!), the County Donegal Railway, with customs huts at each of the many border crossings, the Cavan and Leitrim Railway, which brought the coal out from Arigna, and many others.
Most parts of both Northern Ireland and the Republic were covered, notable scenes including one of the GNR(I)'s famous VS 4-4-0s crossing the Boyne Bridge on the approach to Drogheda with a Belfast-Dublin express, Pat the coaling stage pilot at Cork, and CIE 4-6-0s 800/1 at Thurles during a 'joint' railtour. Several 'St Patrick's Day' tours were covered including one that covered the Cork, Bandon and South Coast section, and which lost three hours en route, resulting in a very late return. A view of several students, etc on the front of a locomotive included the speaker and several now well-known members and officers of both the Irish Railway Records Society and the Railway Preservation Society of Ireland. The Bedford Branch is grateful to Leslie for giving his talk under difficult circumstances and wish him a speedy recovery. It is good to know that Lance's photographs have gone to a good home (Charles Firminger).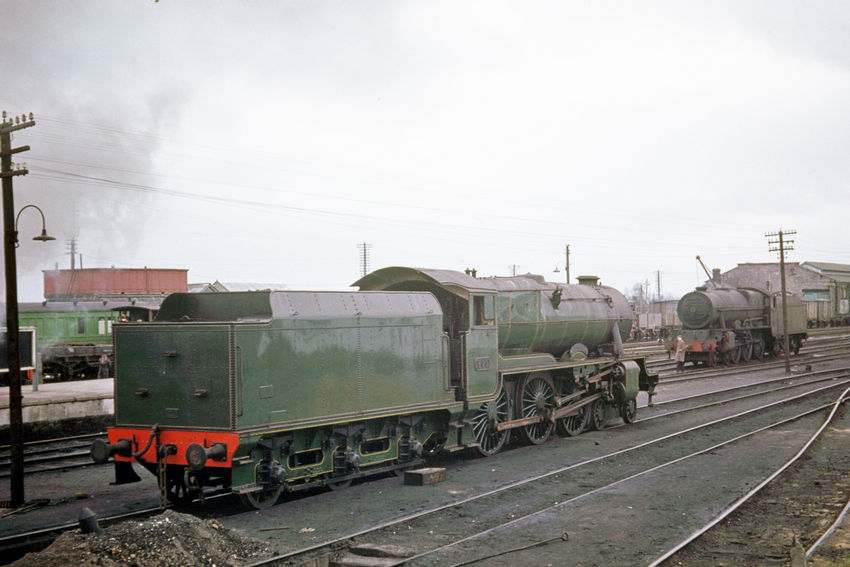 CIE B1a Class 4-6-0s No.800 Maeve and 801 Macha at Thurles on 17 March 1962. That year's IRRS Saint Patrick's Day tour was an outing to Youghal from Dublin, which paused at Thurles where the surviving Queens were in store. They were positioned outside for the participants to photograph them. No.800 is now an exhibit at the Ulster Folk and Transport Museum at Cultra, near Belfast. Lance King Collection, Irish Railway Record Society



Leslie McAllister (speaker), Robin Linsley and Lance King (photographer), who together made up "The Syndicate" which over a period of fifty years raised funds in support of railway preservation in Ireland.
1 November 2022 - Stratford & Midland Jnc Rly. (The Railways of Northampton part 5) - Barry Taylor
On 1/11 Barry Taylor examined the history of the Stratford and Midland Junction Railway, a cross-country route about 70 miles long centred on Towcester and connecting several lines which were originally intended to convey iron ore from Northamptonshire to South Wales. It was formed of four companies which amalgamated between 1866 and 1891 after going bust and was linked to the Midland Railway at each end. Following a period of state control during World War 1 the line became part of the LMS after the Grouping, when the old motive power that the LMS had inherited was soon replaced. Passenger traffic was never heavy and ceased after nationalisation. The movement of freight, powered principally by 4Fs and WDs, was principally east-west and came to include banana traffic from Avonmouth and new steel traffic after nationalisation. In 1960 new connections were laid at Fenny Compton and Stratford. For much of its life the line was used for diversions and excursions, including enthusiasts' specials in its last few years, one of which was the infamous "Wandering 1500". The informative presentation benefitted from the use of maps and a comprehensive selection of photographs depicting the majority of stations and other infrastructure. The Branch thanks Barry for agreeing to the short notice change of date from December to November., a cross-country route about 70 miles long centred on Towcester and connecting several lines which were originally intended to convey iron ore from Northamptonshire to South Wales. It was formed of four companies which amalgamated between 1866 and 1891 after going bust and was linked to the Midland Railway at each end. Following a period of state control during World War 1 the line became part of the LMS after the Grouping, when the old motive power that the LMS had inherited was soon replaced. Passenger traffic was never heavy and ceased after nationalisation. The movement of freight, powered principally by 4Fs and WDs, was principally east-west and came to include banana traffic from Avonmouth and new steel traffic after nationalisation. In 1960 new connections were laid at Fenny Compton and Stratford. For much of its life the line was used for diversions and excursions, including enthusiasts' specials in its last few years, one of which was the infamous "Wandering 1500". The informative presentation benefitted from the use of maps and a comprehensive selection of photographs depicting the majority of stations and other infrastructure. The Branch thanks Barry for agreeing to the short notice change of date from December to November.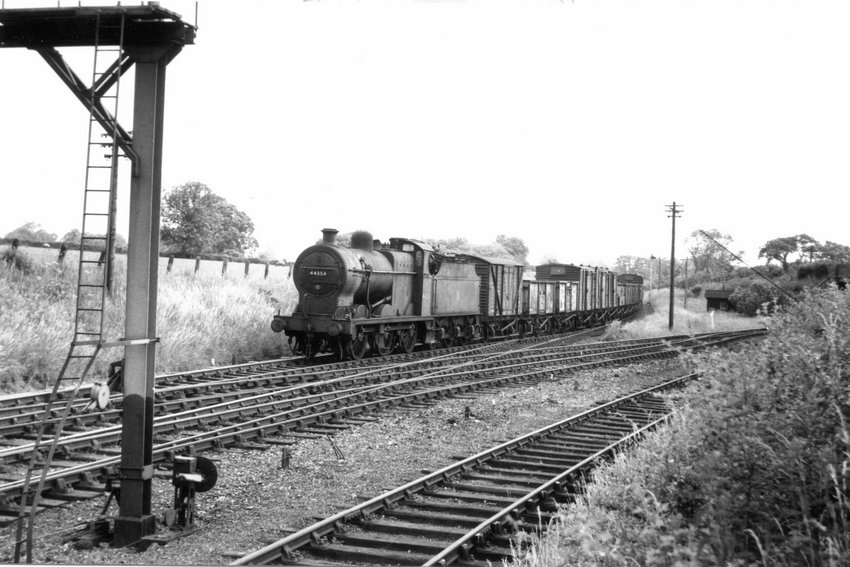 4F 44353 arrives at Towcester from Btisworth Tommy Tomalin
18 October - AGM + Branch Line to Disney by Steve Lacey
A small group of Bedford Members attended our AGM to return the remaining members of the Committee back to office with a very welcome addition of Kevin Darnell who volunteered his services. Our Secretary, Geoff Biggs, has decided to retire from the role due to health and mobility issues after a long stint of invaluable service to the Branch. Our gratitude was expressed by the Chairman and members present. Thanks were also expressed to all the Committee, Members and Friends who have supported the Branch following Covid.
This was followed by a presentation by Dr Steve Lacey: Branch Line To Disney – The Gravesend West Branch,
Although only 4 ¾ miles long Steve managed to give us a full and fascinating talk on what most would possibly consider an insignificant Branch Line. The fact that it had several intermediate stops in such a short distance including one at Rosherville through which a surprising variety of trains passed. Regular 2 coach Push and Pull sets running from Farningham Road to Gravesend West, Local Freight Trains, Block Coal, Boat Trains, and Royal Trains were just some that made for an eclectic mix. Rosherville was remarkable for it served pleasure gardens built in a disused chalk pit becoming a favourite with Londoners for many years large numbers visiting very often by ship to Gravesend's West Pier. The advent of the railways spreading allowed the same visitors to seek leisure further afield such as Margate. The Branch lingered on until 1953 when passenger services ceased leaving freight to run until 1968 latterly on the truncated line to Southfleet in the form of Coal Trains from the East Midlands pits. The Disney in the talk's title was the surprise that only became apparent by Steve's excellent shielding of why it was in the Title. The answer being that Eurostar had a short spur built on part of the long-closed Branch formation to Link it's Classic Route to HS1 from Fawkham Junction just East of Farningham road thus allowing services from Waterloo International to Reach Disney World In Paris. The Audience was deeply appreciative of Steve's enthusiastic delivery of a fascinating piece of railway largely forgotten. (Bill Davies, Branch Chairman)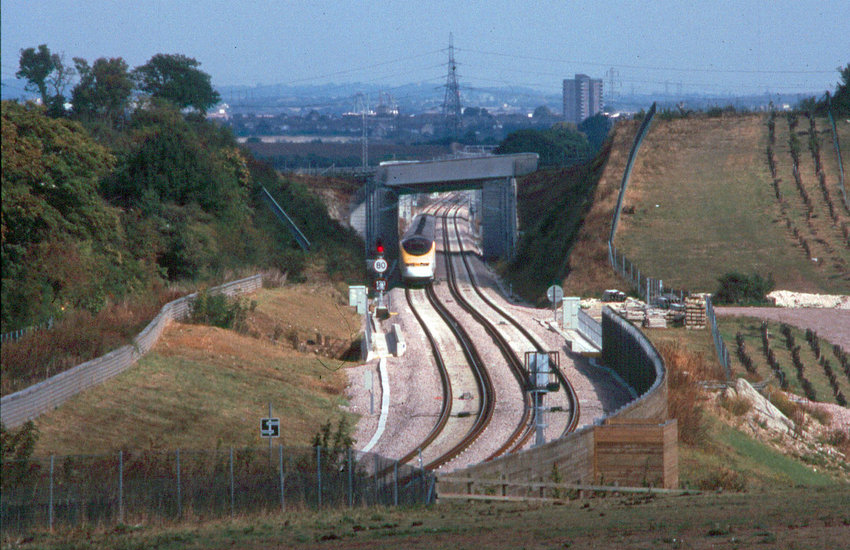 Eurostar heading to France along the branch. Steve Lacey
4 October 2022 - North Staffordshire Railway part 3 - Brian Sullivan
The Branch welcomed Brian Sullivan once again on 4/10 when he presented the third part of his examination of the North Staffordshire Railway. It was prepared in close collaboration with the late Tommy Tomalin, who took many of the colour photographs accompanying the presentation. In this instalment Brian examined the sections from Norton Bridge to Stone, Colwich to Stoke, the Trentham Gardens branch and the line from Stoke to Keele via Newcastle-under-Lyme. In common with lines in other parts of the country, some short lived stations were opened to cater for suburban traffic and served by steam rail motors which were typically under-powered. They soon closed when it was realised that trams served them better. As with previous presentations in the series, the lucid explanation of the complexities of the network and its history was usefully complemented by maps prepared by Colonel Cobb. A comprehensive selection of photographs by a range of photographers, including H C Casserley, covered the stations, motive power depots and other infrastructure well. It was clear from the photographs depicting trains that coal was the principal traffic but despite the construction of the Madeley Chord in 1962 it was inevitable that when this traffic contracted the network would follow suit.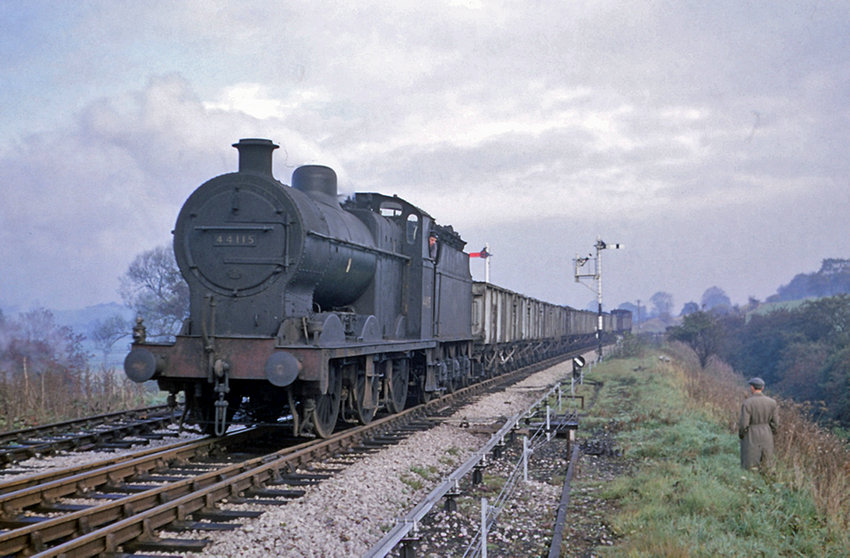 44115 passing over the WCML with a freight. Tommy Tomalin
6 September 2022 - On and Off the Footplate around Bedford - Bill Davies
Branch chairman Bill Davis stood in at short notice for the advertised speaker, George Howe, who could not attend due to overnight illness. It was a first outing for the latest of Bill's 'On and off the Footplate' series of talks, this one mainly based around Bedford loco. He commenced with anecdotes and stories from his days at Nottingham, progressing to working on the Southern Railway and the ECML at Kings Cross and interspersed by amusing photographs he has taken on his journeys around the UK mostly with his four legged companion 'Bentley'. An example was a sign requesting 'Please Do Not Sit On The Fence' and below was a poster 'Polling Station'! Another was one of many Bill has taken of Bentley on tour. Bentley was seen using his vocal cords to the full under the running in board at 'Barking'. We finally got to the main bulk of the talk 'Bedford loco', featuring its locomotives from Steam to Diesel, its workings and many more amusing stories. Some were of incidents that when told were amusing but the outcome could have had serious consequences. As Bill said 'We got away with it!' We thank Bill for a thoroughly entertaining evening and a great insight into the daily working life on our railways. If you ever get the chance to attend one of Bill's talks, take it. You are in for a treat. George Howe has made a full recovery. (Chris Foren)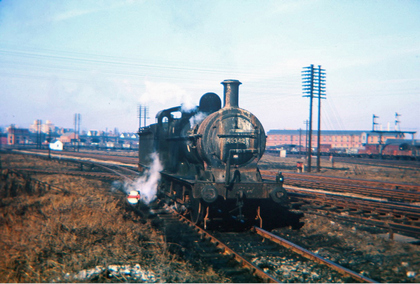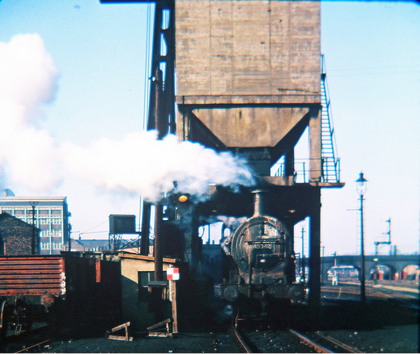 Two images by the late Jack Turner, LCGB Member No1, of ex MR Johnson 3F 43342 (14E) at Bedford MPD in 1962/63. The loco was transferred to Bedford in late 1962 from Rowsley (17C), where before its transfer it had spent all its time during BR days and possibly many more years prior to this. It was built by Dubs & Co in 1891 as MR No 2065, and renumbered to 3342 in 1907. Withdrawn in Jan 1964. On the left, facing south on the turn table road at Bedford (the flat crossing behind the loco is the cord line into the Gas works), and on the right, under the coal hopper on the same day.
5 July 2022 - Crossrail - Christian Wolmar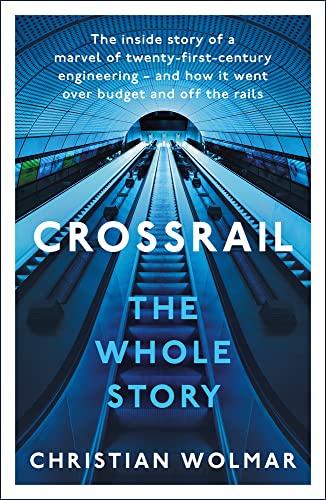 Following his appearance in 2021 via Zoom, the branch was pleased on 5/7 to welcome in person the author and columnist Christian Wolmar to speak about Crossrail. Also named the Elizabeth Line, this is the east-west cross-London railway recently opened between Paddington and Abbey Wood. It was mooted in the 1940 County of London Plan and many subsequent studies, supplementing routes such as the Circle Line, the City and South London and the Central Line. Like many other civil engineering projects, it took longer than expected to construct. Funded from the public purse, it came to be seen as a far more environmentally friendly proposition than the motorway box proposed in the 1970s which would have required 40,000 properties to be demolished. The climate in which the proposal emerged was one of expectations of increased car use and declining patronage of the Underground. Following the creation of an elected Mayor of London, plans were formulated, a business case of £7bn agreed and the route safeguarded. An enabling Bill was laid before Parliament in 2005 and became law in 2008. Eight tunnel boring machines were used in construction. The stations, all with platform edge doors, are noticeably more spacious than previous 'tube' stations and were either equipped with or upgraded to include disabled access. The 70 trains each have 9 coaches and have the facility for auto reversing, handy for turning back at Paddington. A route for Crossrail 2 is safeguarded but the project is mothballed. The Branch thanks Christian for a fascinating and comprehensive presentation. (Chris Foren)
7 June 2022 - Steam around Leeds and Bradford, and the North East, 1966 & 1967 - Michael Smyth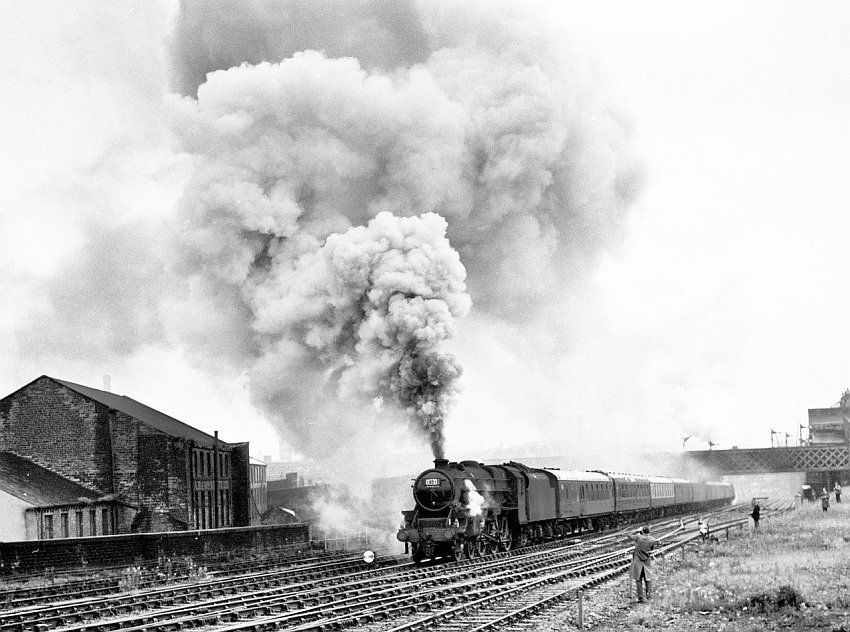 In place of the advertised speaker, and at short notice, Michael Smyth paid his first visit to the Branch on 7/6. He presented a selection of his black and white photographs which he had taken in 1966-67 just before he went to university. Most had been taken in the Leeds and Bradford areas but some other locations were also featured. Michael had his work cut out to explain the complicated railway geography of his home territory but its traffic largely spoke for itself, with its preponderance of careworn WDs on coal traffic, 2-6-4 tanks in charge of 'portions' and other passenger trains and banking engines necessitated by the topography. Some B1s were observed on pick-up goods with the odd Jubilee at the head of Leeds to Sheffield locals and even the odd Britannia. One of the routes in Michael's patch was the Midland main line, which he described as exceptionally busy: how times change. Some of the subjects recorded for posterity were captured at one or other of the local sheds such as Low Moor, Normanton, Royston and Holbeck. Others were set in the attractive urban landscape and at stations including Bradford Exchange and Leeds City, the latter described by the speaker with undue modesty as 'difficult to photograph'. Those present were impressed by Michael's evocative presentation and took heart from his chance remark that there is a second part.
3 May 2022 - Over the hills and far away: Part 2 Llandovery to Swansea - Chris Jones
Branch Committee member Chris Jones was the presenter on 3/5,when he shared the second part of his exploration of the Central Wales line. Some may not have realised that for at least part of its life it has been regarded as a main line despite many speed restrictions, some as generous as 25 mph. Its parentage was divided between the LNWR, the GWR and the Llanelly Railway and Dock Company. Resuming his southward journey at Llandovery, Chris described the route, the branches off it to Carmarthen and Llanmorlais and some of the occurrences that made its history distinctive. One such was the collapse of the bridge at Glanrhyd in 1987 while a dmu was crossing it. For much of the line's life the principal passenger service was the near legendary York Mail. In addition to passengers, fish was carried from Milford Haven to Leeds. Sources of freight traffic included a brick works at Cwmdu, milk from Ffairfach and cockles from Penclawdd. In relatively modern times motive power was predominantly of LMS origin with an infusion of GW panniers unkindly described as "matchboxes". The route along the coast of Swansea Bay near Mumbles was particularly prone to near blockage by drifting sand. The profuse peppering of the presentation with anecdotes and the well chosen photographs, some by the noted lensman Huw Daniel, made it far from dry and more than a little entertaining. (Chris Foren)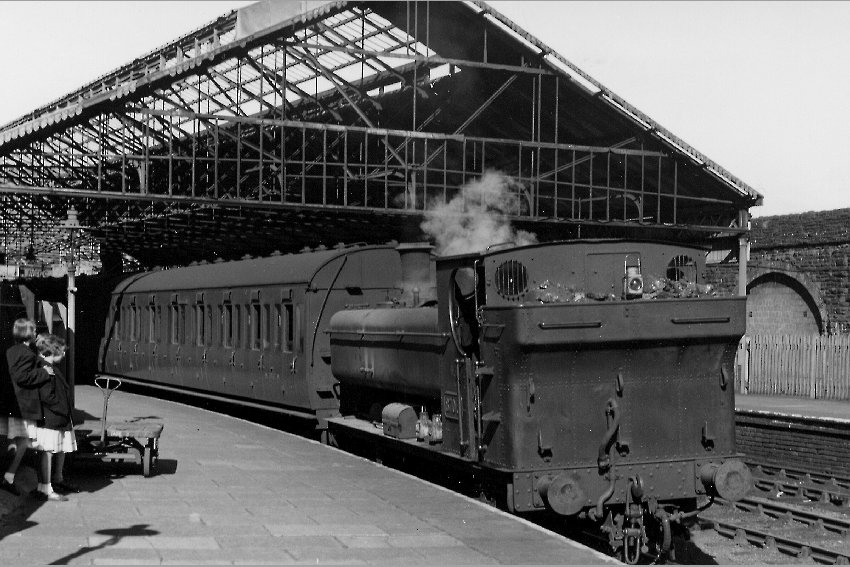 ex GWR 57xx cl 0-6-0PT 8706 at Swansea Victoria on the 4.20pm to Pontardulais on Saturday 4th September 1954. Photographer: the late Peter Bland.
5 April 2022 - Colour-Rail Around the Regions - Roger Whitehead
Unfortunately our advertised speaker was unavailable so at short notice Roger Whitehead replaced him with aplomb showing a splendid selection of slides from his extensive personal collection of Colour Rail around the regions.
Roger decided that the best way to present was to do use the catalogue as an index for his headings. He started off with the very rare pre Second World War offerings which Ron White had assiduously assembled from his many contacts thus allowing us to see some incredible pre Nationalisation masterpieces often taken on Dufycolour which had a rating of ASA 2.
As the talk was around the regions we saw some from each of the big Four. The Evening continued on this theme throughout with many rare pictures of the railway as it was in our living memory. Steam predominated with Roger doing his utmost to describe each slide. All those present saw something of their liking .
The last remaining selection was from the diesel and electric era, once frowned upon, now surprisingly acknowledged by a very good attendance. Throughout we saw a Railway long gone. No lineside vegetation, immaculate ballast and freight traffic lost so many years ago. This is not to forget signal boxes and semaphores from that lost era.
Roger is to be congratulated in providing us an excellent evening with something for everyone, finishing in good time for us all to continue discussing the meeting in the Pub !!!! (Bill Davies)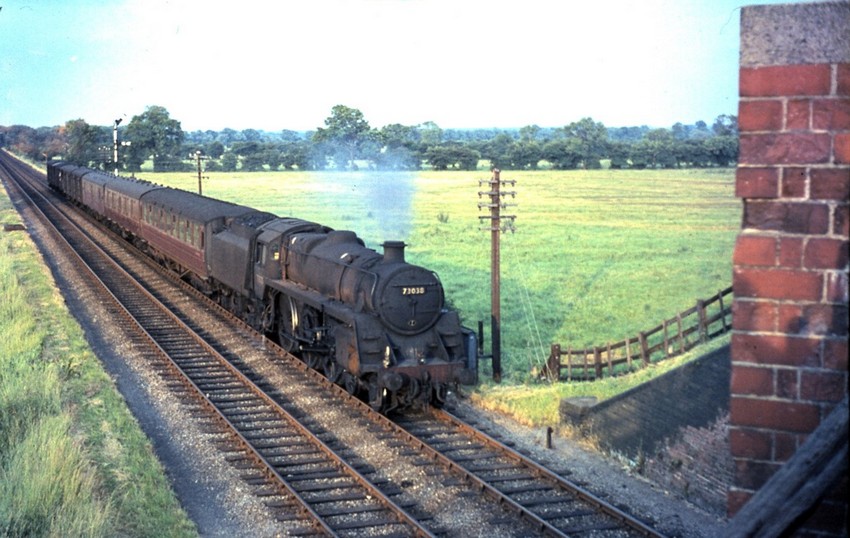 Image: 73038 on a Cambridge to Bletchley train at Cardington Road Bridge, Bedford. About 1960. (Photo: Ken Dickens)
1 March 2022 - North Woolwich to Palace Gates - Jim Connor
On 1st March Jim Connor presented his exploration of the line between North Woolwich and Palace Gates from his home in Colchester. Although the line opened to North Woolwich in 1847, some of the intermediate stations came later and some were resited during their lives. Others, such as Tidal Basin, were closed due to depopulation and several were damaged during World War 2 by enemy action. Among the major sources of traffic apart from the Royal Albert Docks at Gallions were Silver's rubber factory at Silvertown, named after it, and the sizeable gasworks at Beckton which had its own internal rail system. Jim showed illustrations of the majority of the stations on the line. They were far from uniform and appeared to receive more than their fair share of fire damage. The main building at Cannell Road was in the style of a Swiss chalet with that at Silvertown still gas lit. In later years Stratford High Street station surrendered its platform canopies to two stations on the Southbury loop. Some of the line's traffic was also illustrated. Motive power in steam days was mostly 0-6-2Ts of Class N7 but in later years L1 2-6-4Ts appeared, to the dismay of some crews. The service between Stratford and Palace Gates closed in 1963 and that between Stratford and North Woolwich in 2006, the latter being partly incorporated into the Docklands Light Railway. The Branch commends Jim on presenting such a complex history with clarity. (Chris Foren)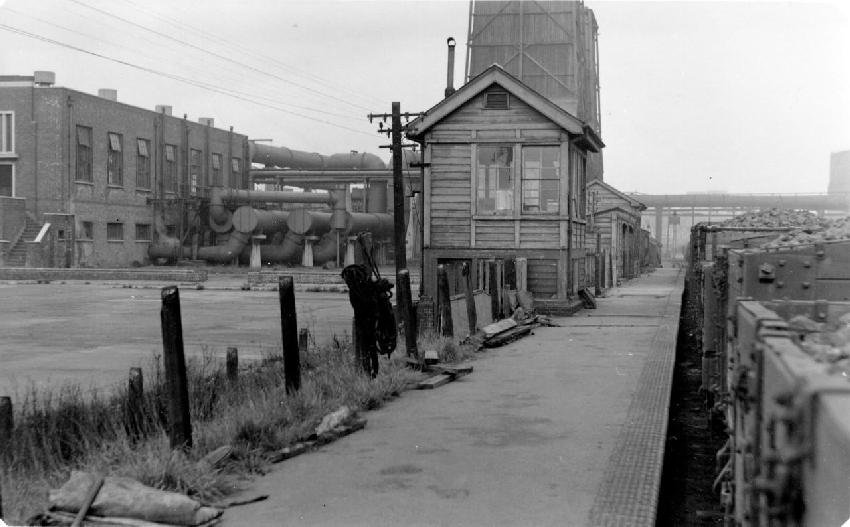 Image: Beckton Gas works, the old, closed station. Taken on Sat 26th April 1952. Photographer: the late Peter Bland.

1 February 2022 - Railways around Cambridge II - David Scudamore
On 1/2 David Scudamore did not need Zoom to present the second part of his survey of the railways of the Cambridge area. He began with a look at Cambridge station showing two historic buses outside and the neighbouring Spillers mill, now converted to flats. Heading north from Cambridge his survey took in Chesterton Junction and the route to St Ives, now commonly known as the misguided busway but which saw sand traffic until 1992. On the way were espied a 2 foot gauge line at Chesterton Junction, the jam factory at Histon, the sand terminal at Fen Drayton which had been the principal source of traffic in later years and Taw Valley on driver training duty. Next came the line to Fordham and Soham, where an ammunition train had exploded in 1944. The town now boasts a newly built station. The next route examined was via Cherry Hinton and Fulbourn to Newmarket. No visit there would have been complete without a picture of Charlie, the last shunting horse on BR. Back in Cambridge, a tour of the shed was enhanced by pictures of some distinctly non-native motive power, including two GW examples on the way to the scrapyard. The fine photographs were taken by some noted photographers, including David himself. Some of his had been taken over Christmas. The presentation prompted much discussion and whetted the appetite of the Branch for future instalments. (Chris Foren)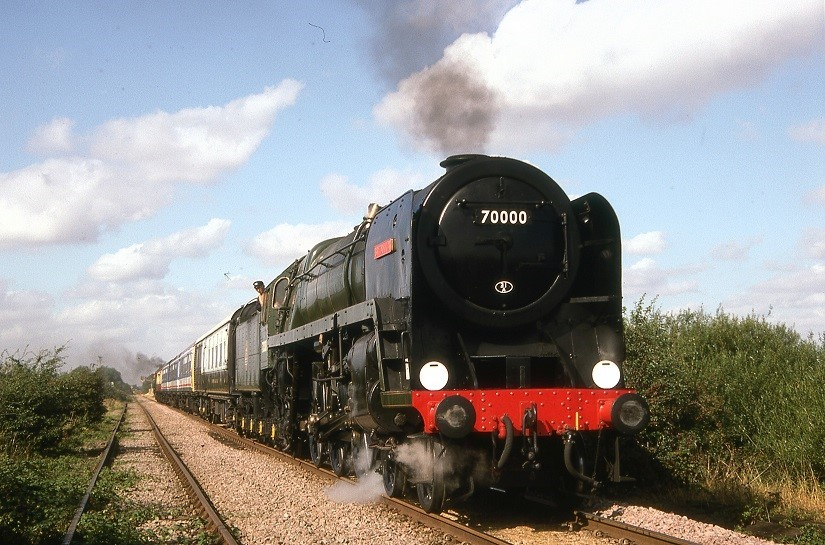 Image: 70000 'Britannia' on 15th September 1991 at Fen Drayton sand terminal near St Ives on the Cambridge – Huntingdon – Kettering line. The train was operated for driver training for Cambridge to Kings Lynn steam specials on 19-20 October 1991. Line now part of guided ('misguided') busway between Cambridge & St Ives. (Photo: David Scudamore)
4 January 2022 - Route of the Canbrian Coast Express - Richard Crane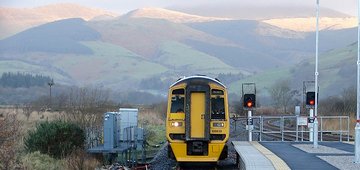 Former Branch Secretary Richard Crane was the speaker once again on 4/1. The subject of his presentation was the route of the Cambrian Coast Express, from Paddington to Aberystwyth and Pwllheli. The service began as a restaurant car express in 1921 and was named six years later. Richard showed the latest changes to the infrastructure at the London end, particularly the drastic alterations to Old Oak Common depot. He also illustrated a comprehensive selection of motive power to be seen on the route, not only from the days of steam but also from more modern times. The latter included Class 68 diesels powering push-pull trains for Chiltern Railways, now the principal user of the route south of Birmingham. The photographs came from a wide range of sources, including his own camera. Many of the intermediate stations on the route were portrayed: the busy-ness of Birmingham Snow Hill before its closure and reinstatement was a notable contrast with the bleak and typically wet Dovey Junction. Given the territory traversed by the Cambrian Coast Express, the presentation would have been quite incomplete without brief glimpses of the Welsh narrow gauge lines with which it connected. As is the case with so many presenters, Richard had some difficulty with pronunciation of Welsh place names, but this did not detract from a well-researched, entertaining and informative presentation. The Branch looks forward to another visit from Richard ere long. (Chris Foren)
7 December 2021 – "A different point of View" – Steve Sedgewick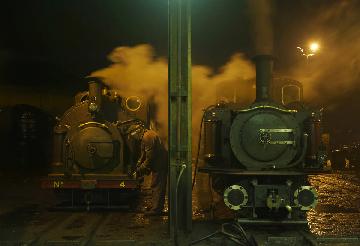 Steve Sedgwick's presentation on 7 December 2021, "A different point of view" was, perhaps appropriately, delivered remotely from his home direct to St Johns Church Hall with the aid of Zoom. This was the Branch's first and maybe not the last outside broadcast!! Few of Steve's pictures are the stereotypical three-quarter front view of a locomotive. Instead, he explores less commonly portrayed features, many of which are difficult to access. A case in point is inside motion. Many cameramen rely on bright sunshine for their ideal shots. By far the majority of Steve's work is in weather which many would consider less than ideal. For him, rain and its resulting puddles and wet patches provide a perfect source of light. At least one of his images was taken during a partial eclipse. Sunrise and sunset both provide opportunities to capture glint and he is no stranger to the silhouette, of which, it must be -said, he makes a better job than many. On a foggy day he welcomes the chance to impart an air of mystery to the subject but is more than happy to make good use of a sunrise or a sunset. In spring he looks for bluebells, primroses and lambs to complement the subject, while in winter a fresh fall of snow is something he finds ideal. As for subjects, he is keen to portray locomotives receiving attention, whether repair or cleaning, and he is not the first to discover the photogenic possibilities afforded by drivers and firemen. Steve's atmospheric photography must have provoked a few thoughts among the cameramen in the audience. (Chris Foren)
2 November 2021 – Central Wales Line Part 1 – Chris Jones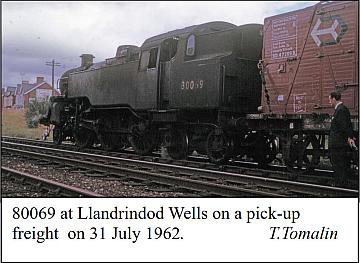 Branch committee member and former Chairman Chris Jones began an exploration of the Central Wales line, under the title "Over the hills and far away". His interest in the line stemmed from having grown up living next to it. After a brief description of the line's origin as part of the London and North Western Railway in the late 1850s, Chris concentrated on the section between Craven Arms and Llandrindod Wells and its 33 stations. He drew on an extensive collection of photographs, many from his own camera, to illustrate the stations, signal boxes and other features, notably the viaduct at Knucklas. Before rationalisation began, in 1964, typical motive power had included Super D 0-8-0s, 8F 2-8-0s and assorted 2-6-4 tanks, mostly but not exclusively of Fowler origin. In earlier days passenger traffic had included through coaches from Euston to Swansea. The Central Wales was not the easiest line to work and under rationalisation the not inconsiderable freight traffic was either re-routed or discontinued. What became a rudimentary passenger service was worked by two-car Class 120 dmus fitted with headlights. DMU drivers were entrusted with operating signalling and level crossings. More recently some specials from Rhymney to Llandrindod for the Royal Welsh Show had been worked by loco-hauled stock. Aspirations for the future were voiced by the County Rail Officer and included the use of HSTs. The number of marginal constituencies served by the line may help to explain its survival! (Chris Foren)
19 October 2021 – AGM and presentation by Peter Crossman.
The Branch AGM returned to being a live meeting on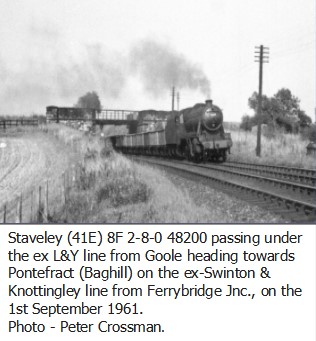 19/10. Chairman Bill Davies drew attention to the increasing difficulty in finding speakers. He thanked the Committee and other helpers for their contributions to the life of the Branch, particularly retiring Treasurer Peter Crossman. Geoff Kingham was elected as Treasurer in his place and the remainder of the Committee re-elected en bloc. The formal business was concluded in about 30 minutes. After the tea break Peter Crossman turned presenter, showing some "scenes from the 1960s". He began with typical scenes at Oakleigh Park in 1961. As he grew older he travelled further afield, reaching Yorkshire before reverting to locations nearer home – Cricklewood, Willesden, Northwick Park and Old Oak among others before finishing on the Isle of Wight. As a bonus Peter showed some film footage transferred to DVD, much of it from ventures further afield.
5 October 2021 – NORTH STAFFS RLY Part 2 – Brian Sullivan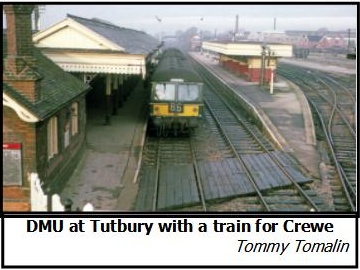 Brian Sullivan returned to the Branch on 5/10 to present the second part of his examination of the North Staffordshire Railway. In this instalment he examined the sections from Derby to Crewe via Uttoxeter, Stoke, Etruria, Harecastle and Alsager and from Leek Brook Junction to North Rode. Despite his lucid explanation of the network and its history, several maps prepared by Colonel Cobb formed a useful complement to his narrative. The talk was accompanied by a comprehensive selection of photographs which covered the stations, motive power depots and other infrastructure well. The standard North Staffordshire Railway waiting shelter appeared frequently. Those in black and white were taken by many photographers, some better known than others. The majority of the colour shots were clearly the work of the much travelled Tommy Tomalin, who emulated Alfred Hitchcock by appearing in some of them himself. The photographs depicting trains ranged from an 1881 view of Crewe to shots of WD 2-8-0s lugging coal and successive generations of diesel multiple units. Although the selection majored on the commonplace, such as the Tutbury Jinny, the unusual was not overlooked and the appearance of a Clan on an express from Liverpool came as a surprise to some. At the end of the presentation Brian trailed the contents of Part 3: not a hint, surely? (Chris Foren)
7 September 2021 – Modern Traction in the 1960s – David Percival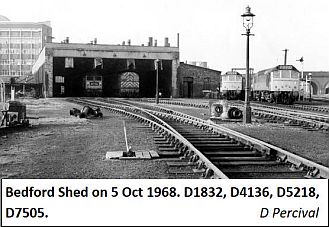 Bedford Branch's Indoor meetings resumed in the familiar St John's church hall with a presentation by David Percival, thankfully without the temperature check that those attending had been led to expect. David's slide show featured modern traction in the 1960s. This definition was sufficiently elastic to embrace 1958 and glimpses of the declining days of steam. David's earliest photographs were in black and white but from the mid 1960s he ventured into colour. Many of the subjects depicted, but by no means all, were captured on the East Coast main line near his Knebworth home. In addition to the Deltics there were Class 33s on a cement train, DP2 heading the Sheffield Pullman, the XP64 set, the much maligned Baby Deltics and even a glimpse of the Class 26s before they were transferred to Scotland. Away from the East Coast, David worked first for Ian Allan and then W H Smith. These jobs called for travel on business and provided opportunities for photography far from home, as did trips organised by the Stevenage Locomotive Society. In due course many of David's photographs graced the pages of the Ian Allan ABCs. 30 slides offered to a magazine went missing for 20 years but fortunately they came to light again. It is fortunate that David bothered to photograph diesels towards the end of steam and the Branch thanks him for an interesting presentation. (Chris Foren)
6 July 2021 – Cathedrals of Steam – Christian Wolmar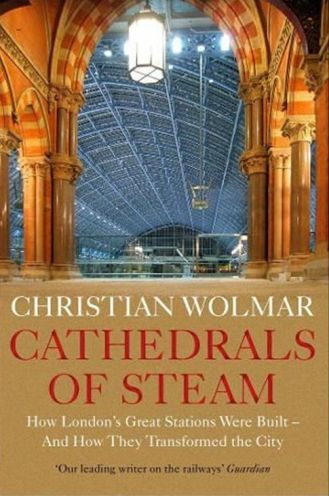 On 6th July the branch welcomed, via Zoom, the well-known author and columnist Christian Wolmar to speak on "Cathedrals of Steam", a survey of London's termini. In writing the recent book that shares its title with the presentation, Christian found that London has more stations than any other city. His examination of each terminus was in broadly chronological order and began with Spa Road, the predecessor of London Bridge as terminus of the London and Greenwich Railway. Any wish that the railway companies might have had to locate their stations more centrally was thwarted by a decision of 1846 that none should be built within an area broadly equivalent to Zone 1 and bounded by what became the Circle Line. That there were so many termini was due purely to competition. Christian examined the other factors which determined their location and commented on their relative architectural merits. In his view Paddington came closest to being a cathedral with its nave and transept. He saw Waterloo as the messiest of stations yet described the incorporation of the former Eurostar terminal as brilliantly done. He praised the sheer simplicity of Kings Cross but lamented the generations of clutter in front, only recently removed. Broad Street in his opinion was the one that got away, having been allowed to die after once being the third busiest terminus in London. The Branch thanks Christian for an interesting presentation and hopes that one day he will be able to speak live in Bedford. (Chris Foren)
1 June 2021 - With Lance King in Ireland : 1958 – 1963 - Leslie McAllister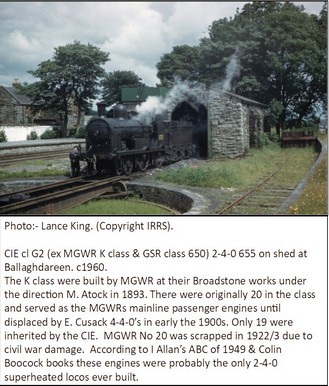 Leslie McAllister paid his first visit to the Branch on 1/6. He presented a selection of photographs taken by his late friend Lance King in Ireland between 1957 and 1963, all but a few in colour. The collection is now in the photographic archive of the Irish Railway Record Society (IRRS).
To date, Leslie has scanned over two thousand of Lance's superb slides and the final choice for tonight's presentation was given a touch of Photoshop by fellow IRRS member, Richard McLachlan. Leslie paid tribute also to Tony Eaton, Lance's executor, who scanned Lance's photographic notebooks.
The period covered was very much the Indian summer of steam, though there was a diesel presence in the form of the GNR(I)'s railcars which had clearly been inspired by those of the GWR. Soon they were joined by the early CIE diesel locomotives, whose performance was famously unsuccessful until they were re-engined with the products of General Motors. At this time, though not for much longer, there was also plenty of narrow gauge steam to see and ride, notably the Cavan and Leitrim and the Co Donegal. Even on the County Donegal there were diesel railcars. Some of Lance's explorations were enabled by the IRRS's tours, which embraced some of the more rural branches that would not survive for much longer and are now all but forgotten. The economics of these lines must have been dire but Lance made the most of their photographic potential. Like too few other photographers he often took care to include the whole scene rather than content himself with just the train. Among the many notable images captured by Lance were Phoenix, a steam tractor that became a diesel shunter, and the Fintona horse tram, always hauled by a mare named Dick. The presentation was a fine tribute to Lance and his excellent photography, of which the Branch hopes to see more in due course. (Chris Foren)
4 May 2021 – Railways Around Chesterfield – Glynn Waite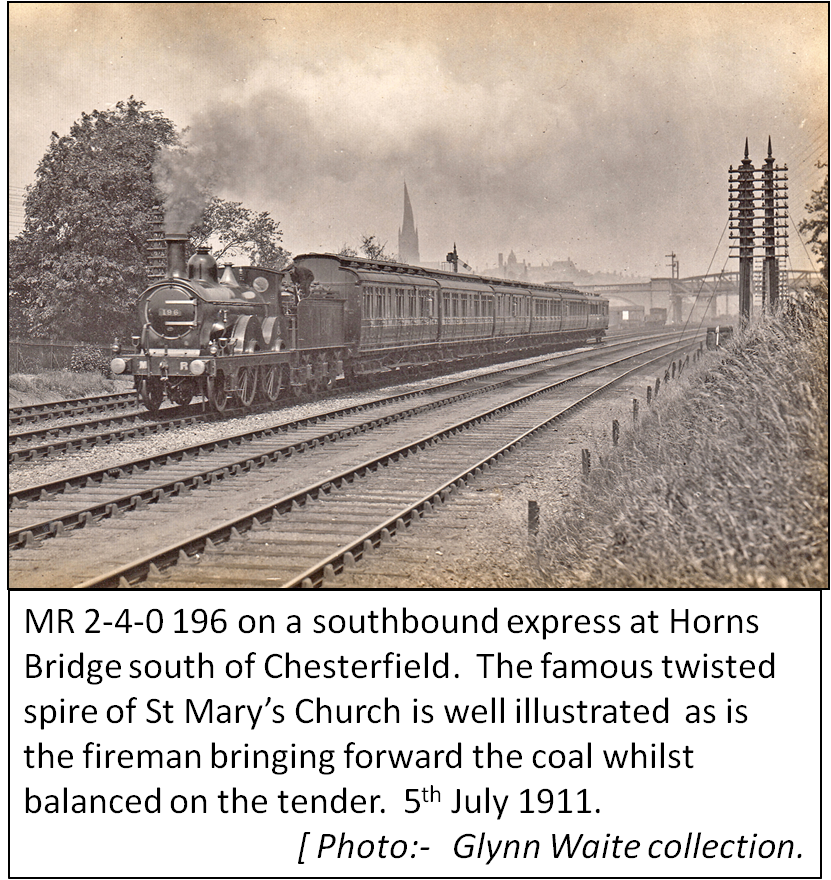 The Branch welcomed Glynn Waite to its Zoom Meeting to speak about railways in and around Chesterfield. With the welcome aid of a map he explained the complexities of the network. The first line to be built was the North Midland, later the Midland Railway, from Derby to Leeds, opening in 1840. In 1870 came the Midland's line from Chesterfield to Sheffield. The Manchester, Sheffield and Lincolnshire Railway arrived in 1892 before becoming the Great Central. In 1897 the Lancashire, Derbyshire and East Coast Railway opened between Chesterfield and Lincoln before being taken over by the Great Central in 1907. Glynn traced each route in turn, showing a fine selection of photographs illustrating the stations and principal structures. Those of stations positively bristled with staff, possibly because some were taken as shifts changed. Many of the structures clearly showed the effects of subsidence caused by mining coal. A remarkable selection of tickets was illustrated as the speaker described the operation of workmen's trains. A characteristic of the area was the extent to which stations were rebuilt, relocated and renamed: given that some small places such as Killamarsh found themselves with three stations this was inevitable. Both the Great Central and the LDEC lines have all but disappeared completely and there are few traces remaining. The Branch is most grateful to Glynn for a fascinating presentation of an unfamiliar subject. (Chris Foren)
6 April 2021 – The Cambridge Area Yesterday & Today Part 1 - David Scudamore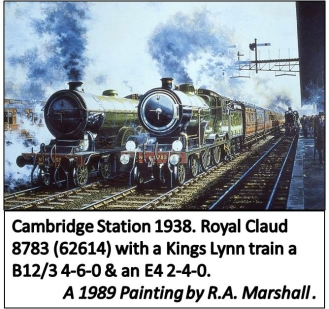 David Scudamore gave the Zoom presentation to the Branch on 6/4, comprising the first part of a survey of the railways of the Cambridge area, yesterday and today. Of the eight lines which once radiated from Cambridge, four are still extant and are set to be joined by a fifth, the much vaunted East-West route. The clarity of David's explanation was reinforced by maps and aerial photographs. His initial focus was on Cambridge station, its buildings, surroundings and traffic, complemented by a brief survey of the station pubs and their signs. The loco shed which used to adjoin the station and later succumbed to redevelopment featured prominently, as did some of the visiting motive power. The latter included not only reminders of the Great Eastern but some perhaps less predictable visitors such as a WD 2-10-0 and two Bulleid light Pacifics. More modern traction was not overlooked either. Some of David's fine photographs were obtained over Christmas when there was no traffic and no staff to say 'no'. The talk ended with an examination of the line northward from Cambridge as far as Queen Adelaide, north of Ely, including the recently opened Cambridge North station and the bygone semaphores of Ely. This was a presentation as comprehensive as it was fascinating and prompted much discussion at the end. The Branch thanks David for a first-class evening and looks forward to enjoying parts two and three in due course. (Chris Foren)
2 March 2021 – The Railways of Northants Part 4 – Robin Cullup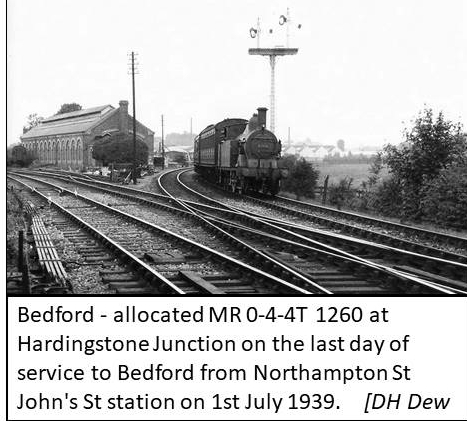 The branch set some sort of record by welcoming Robin Cullup for the second time in as many months. Never one to discard a winning formula, Robin took to Zoom once more to present the fourth part of "The Railways of Northamptonshire". This instalment covered four lines which opened between 1859 and 1888. Beginning with the line from Northampton to Market Harborough, the virtual journey embraced the line from Northampton to Bedford as far as Turvey continued with the loop from Roade to Rugby and concluded with the branch from Weedon to Leamington as far as its junction with the line from Rugby. To complement his narrative Robin had assembled not only a typically impressive set of photographs but some useful plans including several of the larger stations and the RCH junction map of the Northampton area. Among the photographers represented were Ken Fairey, Henry Casserley, Lens of Sutton, Les Hanson and of course Tommy Tomalin. The images embraced the period from pre-grouping days to the end of steam and beyond. Tunnels, stations and other infrastructure were all well represented. Pictures of traffic struck a good balance between the workaday and the odd special, featuring such rarities as a Midland Flatiron tank and the named WD 2-8-0 "Vulcan" amid the Super Ds and 9Fs. Robin kindly reminded the Branch that there are two more presentations in the series. Watch this space! (Chris Foren)
2 February 2021 – The Railways of Northants 3 – Robin Cullup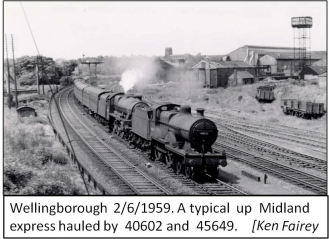 We welcomed Robin Cullup to present by Zoom the third part of his survey of the railways of Northamptonshire, calling this instalment "The Midland Makes for London". The Leicester to Hitchin line, traversing Northamptonshire between Knighton North Junction and Souldrop, was approved by Parliament in 1853, opened four years later and completed within budget. As audiences now expect from this presenter, Robin had assembled an impressive set of photographs to complement his narrative. The photographers represented included not only the usual suspects such as Ken Fairey but on this occasion R C Riley and A E West. Once again the selection of images provided viewers with a fine portrayal of the line, its traffic and its infrastructure. It would have been no accident that the legendary Garratts were well represented, but not at the expense of more mundane items of motive power – 9Fs, 8Fs, 4F, Jubilees and eventually Royal Scots – nor of the less commonplace such as the diesel 10001 and an elderly E4 captured at Kettering. Lest he be accused of living in the past, Robin took care to include images of the Class 45 diesels, staple power for a generation, as well as of the blink-and-you-miss-them Co-Bos. Enthusiasts' specials were not forgotten and the story was brought bang up to date by shots of newly arrived Class 360 electrics which will work to Corby. The Branch thanks Robin for yet another fascinating presentation, noting with anticipation that there are three more shows in the series. (Chris Foren)
5 January 2021 – Rail Days at Leicester – Richard Crane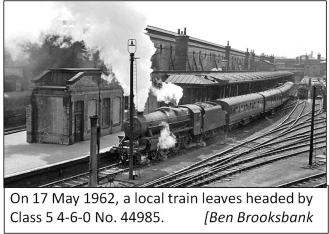 On 5 January the Branch was entertained once again by Richard Crane, this time with the aid of that sign of the times, Zoom.His presentation, "Rail Days at Leicester", was pre-recorded but in all other respects followed the format which Richard had employed many tines in the past. After showing illustrations of some Leicester landmarks he set about describing the various rail routes, beginning with the Leicester and Swannington Railway of 1832. This was followed in 1840 by the Midland Counties Railway, absorbed four years later into the Midland Railway, and in 1899 by the Great Central. Not to be overlooked was the Great Northern, whose branch to Belgrave Road station had gone into decline by 1916 but clung on into the 1960s hosting excursions, mostly to Skegness and Mablethorpe. Using photographs chosen carefully from a wide range of sources, including his own camera, Richard illustrated a representative selection of traffic and motive power. Although it majored on the latter days of steam it by no means overlooked the Peak diesels and HSTs of more recent times. Some superseded infrastructure and the present day Great Central Railway were also embraced. The presentation was well researched and, as is usually the case with this presenter, entertaining and informative. The Branch looks forward to another visit from its former Secretary ere long. (Chris Foren)
1 December 2020 - The Norfolk and Suffolk Joint part 2 - Brian Sullivan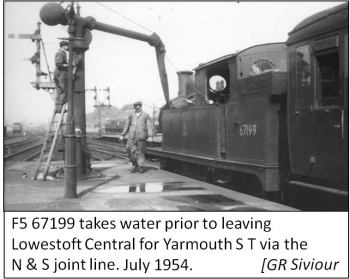 For our December meeting we resorted very successfully to Zoom featuring Brian Sullivan taking us into Part Two of the Norfolk and Suffolk Joint Railway all in the comfort of our own homes. A fishy tale ensued as we commenced our slow train ride from Lowestoft to Yarmouth calling at all stations featuring Lineside Features, stations, the Trains and their Locos mostly of a Great Eastern Stock but also from the Midland and Great Northern a few from the Great Northern then latterly, Standard Class Britannias. It was sad to see how Lowestoft station has contracted into the modern era including most recently re-signalling. Once an important departure point for many fish trains, it also featured a sleeper depot complete with Departmental Sentinel Locos. At least it has survived with services to Ipswich and Yarmouth via the former GE routes. Our route sadly succumbed even after expensive track renewals in 1961 only for the line to be singled in 1967. Complete closure coming in 1970. Much of the traffic came from the numerous Holiday Camps dotted along the route. Local Children would meet trains equipped with home made trolleys to assist holidaymakers with their baggage in the hope of boosting their pocket money. On arrival at Yarmouth the complex rail system that once existed was explained which surprised many of us not well versed with the area. Throughout Brian used photographs and maps to explain the area the line ran through to very good effect to enhance an extremely well researched talk presented recommended. (Bill Davies)
17 November 2020 – Brunel and Great Western Early Days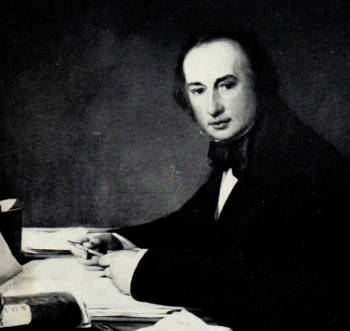 On 17/11 the Branch attempted a speaker-based virtual meeting using Zoom. Branch committee member Chris Jones began an exploration of the Great Western from birth to inception. With the aid of some relatively unknown drawings and photographs he looked at the origins of the company from an unusual angle. It would not have been known to many in the audience that the company was conceived as a passenger railway, set up offices near Mansion House in the City of London, or that its charismatic engineer Isambard Kingdom Brunel had a house built in Westminster which at one time accommodated 40 people including his butler. Of interest also was the often stormy relationship between IKB and a very young Daniel Gooch, appointed locomotive engineer at the age of only 20. Chris devoted some time to Brunel's distinctive bridges at Hanwell and Maidenhead with their scarily flat arches that stand to this day and showed that the "different" nature of the Great Western had its origins right at the start. The technology was at times sluggish and frequently unco-operative but the Branch feels sure that this will not deter from continuing his researches. (Chris Foren)
20 October 2020 – AGM plus "The Palatine" - Ray Schofield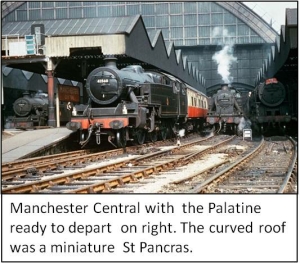 Technology enabled the Branch AGM on 20/10 when the first steps were made into the world of Zoom. Alan Ledwick was named as the new Branch President in succession to the late Jack Turner. Chairman Bill Davies thanked the Committee and other helpers for their contributions to the life of the Branch, particularly Geoff Biggs for running the e-group that has been a lifeline while no meetings are possible. Anxiety and caution combined to make it unlikely that meetings would resume for a while yet but the possibility of making more use of Zoom was being actively considered. The Committee was re-elected en bloc and the formal business concluded in a little over 30 minutes. Branch member Ray Schofield entertained those glued to their computer screens with a presentation, showing that Zoom has the capacity to confuse new listeners! Ray outlined the early history of what became the Midland Railway and traced the route once followed by the Palatine, one of its fondly recalled named trains which ran from St Pancras to Manchester Central. He showed a wide selection of photographs, some from his own camera, and some helpful maps. The Branch will need to get used to this type of "meeting". (Chris Foren)
3 March 2020 – Hatfield to Dunstable – Bryan Cross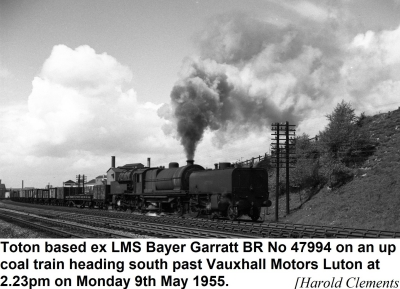 As the advertised speaker was unable to attend due to illness, his place was taken at short notice by Branch Fixtures Secretary Bryan Cross, who presented an illustrated journey from Hatfield to Dunstable with a diversion via the erstwhile Bedford Central box as an opportunity to include pictures of Garratts. The majority of the images were by Harold Clements, supplemented by others from Bryan's own collection. Given that the line was part of the Great Northern Railway it was inevitable that the representative selection of rail traffic illustrated was dominated by N7 tanks, though some tender engines appeared. .This gave the speaker the unenviable task of differentiating between J3s and J4s, not easy when ones prime interests lie elsewhere. As the journey reached Luton the motive power on view was leavened by ex-LNWR coal tanks. Although most of the photographs dated from early times, there were examples from closer to living memory and a couple of Cravens dmus appeared to mark the then imminent end of passenger services. The smart industrial tanks working at Vauxhalls were not forgotten and neither were station buildings, goods sheds and signal boxes. A highlight for many present was the inclusion of aerial photographs from the Aerofilms collection and some maps and diagrams helped to clarify the complexities of track layouts. The audience, seldom silent, made some useful contributions to the speaker's knowledge. The journey was terminated at Chaul End due to late running but this reporter will not be surprised if it resumes at a later date. (Chris Foren)
4 February 2020 – Around the Regions in the 60s – Phil Wood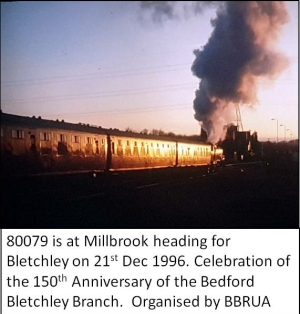 The Branch welcomed the return of Phil Wood after an absence of no fewer than 17 years! Phil toured the country extensively in the 1960s with a succession of cameras, the first of which was a Brownie 127. By paying return visits to many places, far and wide, he was able to capture the rapidly changing scene on film, mostly in black and white. The range of his subjects was truly vast, from the profusion of Gresley Pacifics at various locations on the East Coast main line to several oddities tucked away in sheds, many never to turn a wheel again. One notable capture was that of the Departmental diesel ED3, at Bedford shed. Phil certainly made the most of his expeditions and the opportunities that they presented. Who would have turned down the chance of a footplate ride on 92203? Not he! As the 1960s wore on the opportunities to ride behind unusual classes to unfamiliar places proliferated, thanks in part to the LCGB. Perhaps the most notable of these was the Wandering 1500. This was the era of major closures, some more controversial than others and including the Somerset and Dorset. The transition from steam to diesel soon threw up some unexpected casualties, such as the D8400 series which looked most forlorn when photographed at Stratford. This was a fascinating evening which attracted many unfamiliar faces. The Branch is most grateful to Phil for a worthy entertainment. (Chris Foren)
7 January 2020 – Derbyshire's Railways Revisited – Richard Crane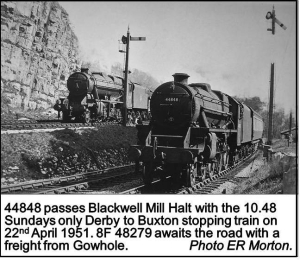 We welcomed once again our good friend Richard Crane, this time with his presentation "Derbyshire's Railways Revisited". Thoughtfully, Richard had prepared maps to help put the various rail routes into context and supplemented them with photographs which covered a high proportion of the stations and other landmarks that he described. In choosing the pictures he did his best to cover a broad a selection of motive power and traffic. Amid the late LMS designs and locos of Midland origin which predominated were also found the pioneer pair of diesels 10000 and 10001, the Fell with its flailing rods, the Woodhead electrics, the Peaks and whatever else could be found hauling coal, the raison d'etre of much of the rail network and its staple traffic for so long. Some stations, such as Derby, were rebuilt more often than others. Others, including the once significant Trent, became but a memory and vanished almost without trace. Although the Midland Railway was the dominant player in Derbyshire, there was a significant presence of other companies such as the Great Northern and of course the Great Central. Many sheds have also been swept away, save for Toton and the old roundhouse at Derby which lives on as part of Derby College. As is invariably the case with this presenter, the evening was entertaining and informative evening and the Branch looks forward to another visit from its former Secretary in due course. (Chris Foren)